38, 38-01, 40, 40-01,
Jalan Gaya 28,
Taman Gaya,
81800 Ulu Tiram,
J
ohor, Malaysia.
Tel: +607- 861 8989
Fax: +607- 861 3189
Office Hour:
Mon - Fri (10.30am-8.00pm)
Sat - Sun (11.00am-9.00pm)
Wed Closed.
Branch
61-63-65, Jalan setia 7/18,
Taman Setia indah,
81100 Johor Bahru,
Johor, Malaysia.
Tel:
+607-359 6989
Our Products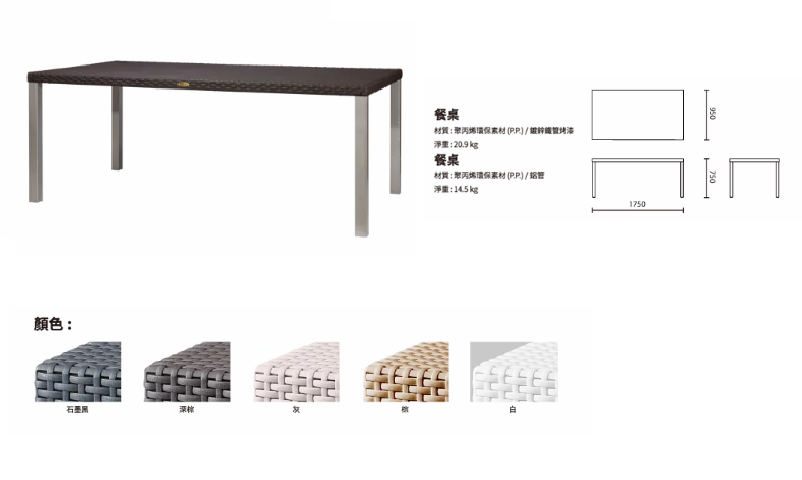 product description
Size: 175cm x 95cm x 75cm
Net weight: 20.9 kg (galvanized iron tube paint) / 14.5 kg (aluminum tube)
Material: Polypropylene environmentally friendly material (P.P.) / Galvanized iron tube paint or Aluminum tube
Color: graphite black / dark brown / gray / brown / white
concept of design
Nordic minimalist design, the degenerate appearance, full of traditional hand-made rattan beauty. With 30 years of experience in the process, we have created a new paradigm for industrial design. Northern Europe is very cherished for the sun because it is very short during the winter. In addition to the Nordic design style and the Europeans' requirements for the beauty of home life, the choice of materials for indoor and outdoor use, I hope that everyone can go to the sun and enjoy the healthy outdoor life.
The rattan table top is made of environmentally-friendly plastic and added with anti-UV reinforcement. It is equipped with an aluminum tube table and foot style, and the outdoor space can also be used. The sun and rain are not afraid of the bad table. The product has been tested for commercial fatigue and has a durable durability. Enjoy two years warranty service and use more peace of mind!
The Oslo Family series has a coffee table and a dining table. The same height of the desktop can be matched according to the space requirements. A spacious 1 meter 75 desktop that can accommodate up to 6 people and enjoy a great meal with family and friends.